abc360 Spring 2024 - Las Vegas
The National Conference on Ambulance Revenue Cycle Management and Compliance
Sunday, March 17, 2024

to

Thursday, March 21, 2024
One Great Conference – 100% Con Ed Approved!
REGISTRATION IS OPEN - READ OUR TERMS AND CONDITIONS HERE
abc360® is the nation's largest and most comprehensive educational event for ambulance industry billing, coding and compliance professionals.  With content for EMS leaders, executives, managers, privacy officers and EMS practitioners, abc360 is truly the one conference your agency can't afford to miss.  
March 17-19      March 19       March 20-21                     
NAAC®                   XI®                     abc360®
Conference Location:
Planet Hollywood Resort & Casino
Las Vegas, NV
XI (the PWW Executive Institute) – 1 day - ideal for industry leaders, executives, managers, compliance professionals, HR professionals, privacy officials, revenue cycle professionals
Main Conference - abc360 – 2 days – ideal for billers, coders, revenue cycle professionals, compliance officers, executives, billing companies, EMS agency managers.
Conference at a Glance - Click the Brochure to Download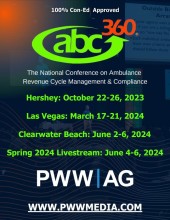 We comply with the Americans with Disabilities Act.  If you require accommodation to participate in abc360, please contact us at least 30 days before the conference. 
For questions about accessibility or to request accommodation, please contact our office at (877) 799-2477 or zaire.willis@pwwadvisorygroup.com.