abc360 Spring 2024 - LiveStream
The National Conference on Ambulance Revenue Cycle Management and Compliance
Tuesday, June 4, 2024

to

Thursday, June 6, 2024
One Great Conference – 100% Con Ed Approved!
All classes are from 8:00 am - 5:00 pm EDT*
abc360® is the nation's largest and most comprehensive educational event for ambulance industry billing, coding and compliance professionals.  With content for EMS leaders, executives, managers, privacy officers and EMS practitioners, abc360 is truly the one conference your agency can't afford to miss.  
June 4                  June 5-6                      
    XI®                         abc360®
XI (the PWW Executive Institute) – 1 day - ideal for industry leaders, executives, managers, compliance professionals, HR professionals, privacy officials, revenue cycle professionals
Main Conference - abc360 – 2 days – ideal for billers, coders, revenue cycle professionals, compliance officers, executives, billing companies, EMS agency managers.
Conference at a Glance - Click the Brochure to Download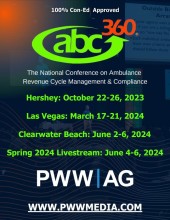 *PLEASE NOTE THAT THIS IS A LIVESTREAM EVENT THAT WILL BE A REAL-TIME SIMULCAST OF THE LIVE CONFERENCES IN CLEARWATER BEACH.
LIVESTREAM ATTENDEES MUST VIEW EVENTS AND SESSIONS DURING THE SCHEDULUED CONFERENCE TIMES AND YOU CANNOT PAUSE OR RECORD THE LIVESTREAM FEED.
PARTICIPANTS SEEKING NAAC CEU's MUST LOGIN INDIVIDUALLY TO RECEIVE THEIR CEU's.
THESE EVENTS WILL NOT BE RECORDED. ON-DEMAND ACCESS WILL NOT BE AVAILABLE.
CONFERENCE TIMES ARE EASTERN DAYLIGHT TIME (EDT)
XI Clearwater - LiveStream 2024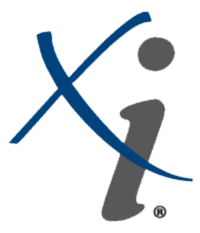 XI® is the preeminent, intensive, all-day workshop for EMS leaders, chiefs, HR managers and compliance professionals.  XI helps leaders spot industry trends from a high level and gives you the tools you need to shape your agency's own future instead of waiting for external forces to shape it for you.
abc360 Clearwater - LiveStream 2024
Spring 2024 Livestream Sponsors