Position Your Agency to Survive, Thrive and Comply in the Coming Year
Las Vegas, NV  ~ March 20, 2018
Orlando, FL ~ April 24, 2018
St. Louis, MO ~ June 5, 2018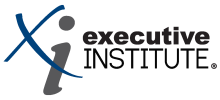 What is XI?

The Executive Institute ("XI") is a high-level and intensive all-day workshop for EMS leaders, chiefs, HR managers and compliance professionals. XI helps leaders spot industry trends from a high level, and gives you the tools you need to shape your agency's own future instead of waiting for external forces to shape it for you.
Here is a breakdown of the Sessions for the 2017-18 XI Conference Series:
 
Session Topics & Descriptions:
XI Keynote 
"Flip Phone" Management is Over – Enter "Smart Phone" Leadership for the Next Generation of EMS
The days of command and control, or leading from a position of authority are over – just like the flip phone. As the new multi-tasking, constantly connected, and well informed generation dominates the EMS workforce, a new breed of leader needs to emerge equipped with "smart phone like" skills – nimble, agile, pragmatic and "people focused." Leadership is both an art and a science.  You need to first understand the fundamental science of leadership before you can paint the portrait of practical leadership success.  Join leadership expert and best-selling author Chris Cebollero - who came from the ranks of EMS leadership - as he outlines the skills needed to successfully navigate the rapidly changing environment facing our current and future EMS leaders.
Morning Breakout Sessions - Public Agency, Private Agency & HR
Public Agency Sessions
911 - Do You Have an Emergency?  Creating and Using Dispatch Protocols Even When You Have No Direct Control Over Dispatch
Proper "emergency" ambulance billing hinges on having in place comprehensive dispatch protocols and response determinants that distinguish between the "level of response" and the "mode of response" to ensure compliance with Medicare regulations.  Proper dispatch protocols coupled with obtaining the right information from the reporting party are critical to getting the "right vehicle, to the right patient, at the right time."  This session will walk you through the steps to develop dispatch protocols that address the compliance concerns related to "emergency response" and "ALS-1E" billing, including how to implement medically-approved "response determinants."  Compliant dispatch protocols and response determinants can help keep you out from under the Medicare audit microscope – even where your EMS agency is not directly responsible for the actual dispatch. 
"Soft" and "Compassionate" – Wait, Are We Talking about Billing, Here?  Dissecting the OIG Safe Harbors and More
Being part of a government agency brings a unique set of laws and regulations that don't always apply the same way to the public sector as they do to the private sector. Many municipal EMS agencies have adopted so-called "soft" or "compassionate" billing practices where the patient is not responsible for any cost sharing amounts. That goes against the grain of the general rule that EMS agencies must make reasonable efforts to collect the required co-payment amounts from the patient.  Recently, the Office of Inspector General issued a new safe harbor for emergency response ambulance services that expressly permits the "waiver" of the normally required cost sharing amounts. Previously, the OIG issued a safe harbor for ambulance restocking programs.  These safe harbors focus on areas where public agencies can benefit. In this session, we will dissect both safe harbor rules and discuss their impact on public EMS agencies and how your agency can best fall under them.  With the need for additional revenue streams, we will also discuss ambulance membership/subscription programs and how your agency can structure a membership program that can pass government muster.   
Private Agency Sessions
Five Things You Can Do Now to "Save Your Bacon" in a Future False Claims Act Case
False Claims Act (FCA) lawsuits against EMS agencies continue to grow tremendously as the government continues its aggressive approach toward health care fraud and abuse enforcement.  An increasing number of these cases are initially brought by "whistleblowers" who are "inside" the system as an employee, former employee, volunteer, competitor, or other healthcare provider your agency works with.  There are many preventive steps that can be taken to minimize your risk of a whistleblower lawsuit.  This session will discuss five critical actions you can take now to prevent these cases from arising in the first place, and to give you the ammunition necessary to successfully fight an FCA lawsuit from the moment it hits the court's docket. 
Wheelchair Vans and More:  Leveraging Non-Ambulance Transport Services to Improve Compliance and Protect Your Bottom Line
As medical transportation shifts more from the "emergency" to the "non-emergency" side of the equation, it is an essential survival strategy to develop alternative means of transport for patients who do not meet the medical necessity requirements for an ambulance.  A key to getting the "right vehicle, to the right patient, at the right time" is to have a variety of different modes of transportation services available that can be called upon at the right moment.  This session will describe specific strategies that you can use to leverage your non-ambulance transport services – or align your agency with others who provide those services - in a way that can help reduce cost and provide the patient with the proper level of service that they truly need.  The outcome of this strategy is to improve your bottom line and to reduce the "stress and strain" on your already taxed ambulance service staff who are frustrated when transporting patients who truly do not need an ambulance.  The role of community paramedicine and ride sharing programs like Uber and Lyft, will also be explored in this innovative session.  
HR Sessions
Managing the Millennial Movement:  Work-Life Balance is Not Laziness!
Millennials are now the dominant age group in the EMS workplace. Millennials bring new expectations with them and the EMS leadership challenge is to meet and surpass those expectations if you want to reduce your staffing problems and obtain and keep good people.  Work-life balance is a high priority for this generation, and a critical factor when seeking (or leaving) employment.  This eye-opening session will describe the top 5 attributes that many workers of the millennial generation share.  We will identify how EMS leaders can tap into those attributes to enhance work performance and job satisfaction.  And now millennials are moving into EMS leadership positions!  So we'll flip the coin and discuss 5 specific leadership behaviors that the new "millennial managers" can exhibit to help win acceptance, respect, and trust among both their millennial peers as well as members of the other generational cohorts in the EMS workplace.  
The Pay Practices Audit – Key Step to Avoid the Most Common and Avoidable Wage and Hour Violations 
One of the top areas of exposure for EMS employers is wage and hour law.  EMS employers are about three times more likely to be sued in federal court for violations of the Fair Labor Standards Act (FLSA) than they are for discrimination or harassment.  At the same time, wage and hour enforcement agencies such as the U.S. Department of Labor (DOL) are also cracking down on ambulance service pay practices – and that trend is expected to continue under the Trump administration. Recent class action lawsuits by dispatchers and EMTs against two large ambulance services alleging that meal and rest periods violated the law is just one of many examples of high profile wage and hour cases we have seen. Your agency's strongest defense is an internal audit of your wage payment practices to ensure that employees are classified properly and that you have the right policies and procedures in place to avoid claims of improper payment of overtime, or failure to pay for "hours worked."  This session will identify the top 5 areas of weakness in EMS pay practices and we'll guide you through the process for auditing these hot spots to ensure legal compliance and avoid costly litigation. 
Afternoon Breakout Sessions - Leadership, Privacy, and Compliance
Leadership Sessions
"Distraction Destruction" – 7 Critical Steps to Manage the EMS "Culture of Constant Connection"
Are your staff spending more "face time" on Facebook than with your patients? Are you reacting to hundreds of e-mails a day and not personally interacting with others?  In our electronically driven world, distractions are everywhere and consume our very being and interfere with our work.  In this engaging session, Steve Wirth will review the "Top 5 Distractors" that impede our ability to focus on our work, care for our patients, properly process claims, and to get the work done accurately, efficiently, and safely.  We will discuss proven risk management leadership strategies for getting your front-line staff to remain focused on the patient and the mission – without causing a major revolt!  These "distraction destroying" strategies for effective leadership will also help make you a more responsive EMS leader and can lead to improved job satisfaction as an added benefit.
Leadership Lessons from the Beatles
The Beatles are one of the most popular bands to ever play music, and they forever changed the landscape of rock and roll.  But their success was not just by happen stance.  They had an innovative business manager who kept this legendary group focused on 5 key fundamental principles to increasing their fan base and their revenue producing success.  Join Doug Wolfberg as he takes these five core principles from the success of the Beatles and explains how those same principles can improve your ability to improve your EMS agency on many different fronts.  
Joint Compliance & Privacy Session
Prioritizing a "Compliance Culture" – You Can Do It All!
Compliance officers in EMS wear many different hats.  Many have both privacy and general compliance officer roles – and at times you may feel like a "one-arm paper hanger!"  We know that you deal with a wide range of compliance issues from potential overpayments in billing to a breach of protected health information.  This session will help you deal with it all.  There are so many compliance "touch points" that - to be effective - a compliance officer must practice compliance "triage" and focus on the top issues that are critical to reduce overall compliance risk.  Learning how to separate "individual" issues from the bigger "system issues" is a critical skill we will cover in this session.  We will help you prioritize the areas that must be addressed in your total compliance program for this coming year. 
Privacy Session
HIPAA Risk Analysis Simplified – Your Complete Assessment in Just 1 Hour
A HIPAA risk analysis is a vital part of HIPAA compliance, yet many agencies have never done one – or they've only done bits and pieces. Health care agencies that have not yet done a comprehensive HIPAA risk analysis have been fined millions of dollars by the government in the aftermath of HIPAA complaints and government investigations – which are on the rise.  Come learn what a complete risk analysis looks like for EMS agencies and their business associates.  You'll discover a straightforward 4-step method to conduct your risk analysis and you will leave the session with a complete risk analysis blueprint for your agency.  
Compliance Session
How to Evaluate the Effectiveness of Your EMS Agency's Compliance Program Using the New DOJ Guidance
Earlier this year, the Fraud Section of the US Department of Justice (DOJ) published its "Evaluation of Corporate Compliance Programs" outlining the DOJ's expectations for effective corporate compliance programs. The guidance includes 11 key compliance program evaluation topics, addressing a wide range of topics well beyond the previously articulated "seven elements" of a compliance program.  The guidance includes a set of "common questions" that the DOJ considers relevant in assessing compliance programs. In this session, we will review the new guidance and provide you with practical pointers that will help your EMS agency "tune up" your compliance program to comport with the new guidance and to address the key topics that the government feels must be addressed.  We will describe how you can use these new benchmarks to design, enhance, and implement an even stronger compliance program so that you can be more "bullet resistant" should the government come knocking on your door.  
Closing Keynote Session
Where Do We Go from Here?  Performance Expectations for EMS in 2018 and Beyond
2017 has seen a whirlwind of change with a new Republican President and Congress working to repeal and replace the Affordable Care Act, among many other economic and human resource challenges that affect our industry. This daunting landscape is steering EMS toward value-based care, alternative payment models, and challenging every ambulance service to "up their game" when it comes to quality and patient satisfaction.  PWW attorneys and consultants have helped hundreds of clients effectively deal with these monumental changes and are poised to share a practical vision for the future that can help you survive and thrive into the future.  Join founding partners Steve Wirth and Doug Wolfberg as they provide a frank assessment of the 2017 "state of EMS and the ambulance industry."  Doug and Steve will describe eight (8) key areas of your business practices that require a "laser beam focus" to achieve success for your EMS agency in 2018 and beyond in the face of increased consumerism, transparency, accountability, and shifting payment models.  
XI Networking Reception
Free for XI attendees only – an exclusive opportunity to network with your peers and with the PWW staff in a relaxed, informal atmosphere.